ServeMontana Awards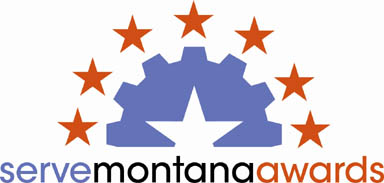 The Governor's Office of Community Service and the Montana Commission on Community Service are proud to present the 2021 ServeMontana Awards.The purpose of these awards is to recognize Montana citizens, of all ages and backgrounds, who have greatly enhanced quality of life in our state through their commitment to volunteerism and service to their community. Nominations for the 2021 ServeMontana Awards will close on 5/1/2021. Honorees will be selected by members of The Montana Commission on Community Service.
Nomination Information
ServeMontana Award Nominees are groups and individuals who:
Impact change in others' lives through volunteerism
Demonstrate a strong commitment to serving their community
Engage in service that significantly benefits others
Exhibit leadership through service
This honor represents the best in positive community change through service, volunteerism, and community leadership.
Eligibility: The public is encouraged to nominate individuals of all ages and backgrounds, organizations, and service groups. All service must be performed in Montana or by Montanans and all nominations must be submitted during the nomination period - nominations submitted through other means will not be accepted. Current AmeriCorps and VISTA members are not eligible for the ServeMontana Award.
Selection: The Montana Commission on Community Service, a Governor-appointed body dedicated to promoting service in Montana, select the award winners.